Seaweed Mats were invented in 1999. We patented our current mat because we believe this is the best mat available for controlling weed problems in lakes and ponds. This mat is the result of years of trials and errors. Along the way we discovered many things about seaweed mats.
First we tried sewing the mats and discovered that sewn mats didn't last very long because the stitching can break. This allows the fabric to come loose and there is no way to repair this. Also, a sewn mat cannot support the stress of the moving.
A hard framed mat is very difficult to move or turn. It also allows build up of gases. This causes the framed mat to rise up and at times it can even float away.
Our current Seaweed Mats are designed to move easily, the weights are encased within the fabric and then totally enclosed with UV rated PVC. This unique design allows gases to escape which prevents the mats from rising up. Our mats are complete and ready to install. The consumer does not need to provide any additional weights, sandbags, or staking down. Just place the mats and you instantly have a weed free area. The main advantage of our mats is the design. Our mats have weights evenly distributed across the entire width of the fabric. This creates a strong mat that can withstand frequently movement.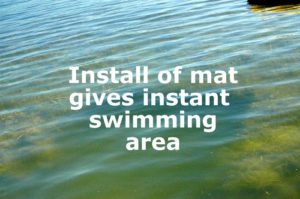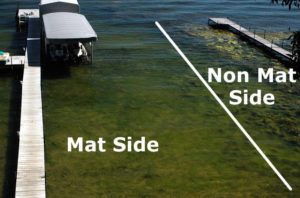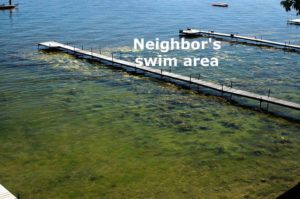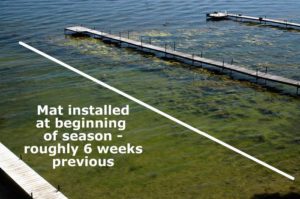 Seaweed Mats are currently in use on the following lakes:
| | | | | |
| --- | --- | --- | --- | --- |
| Conesus Lake, NY | Cazenovia Lake, NY | Irondequoit Bay, NY | Lake Moraine, Canada | Findley Lake, NY |
| Honeoye Lake, NY | Lake Ontario, NY | Loon Lake, NY | Canadaigua Lake, NY | Sodus Point, NY |
| Silver Lake, NY | Upper Saranac, NY | Tuscarora Lake, NY | Bay of Quinte, Ontario, Canada | Chautauqua Lake, NY |
| Keuka Lake, NY | Port Bay, NY | DeRuyter Reservoir, NY | Otisco Lake, NY | Owasco Lake, NY |
| Oneida Lake, NY | Seneca Lake, NY | Ballston Lake, NY | Saratoga Lake, NY | Lake Waneta, NY |
*US Patent 6,957,932 RI